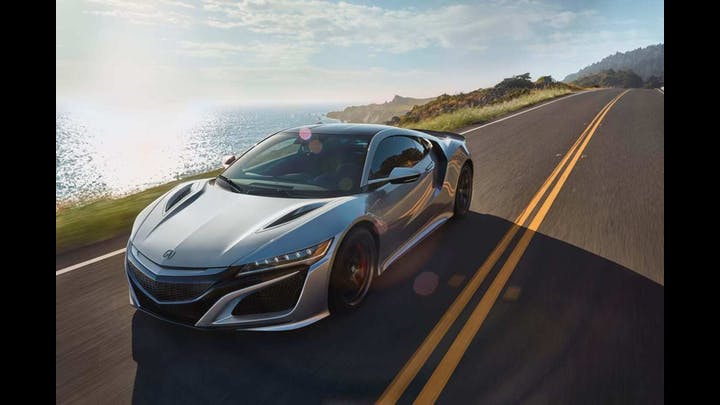 The Acura NSX was Japan's answer to the Italian supercar when it was first debuted in 1990; it was quick, well-engineered, and easier to drive than most high-performance automobiles. Today's NSX is even faster around the track and more comfortable to drive on a daily basis. The NSX gets good fuel economy and traction for varying road conditions thanks to a hybrid powertrain and all-wheel drive. The Acura NSX is still one of the more rational supercars after thirty years.
Overview
The Acura NSX isn't your standard supercar; it strikes a mix between all-out performance and everyday driving comfort. Some driving purists will object to its comfort-oriented approach, preferring the more flamboyant appearance and driving characteristics of competitors. The NSX has the same jaw-dropping acceleration and speed as other high-end sports cars, but it's more controlled and refined. The innovative all-wheel-drive system and mid-mounted hybrid engine in the Acura TLX give outstanding balance and grip. It provides real-world driving enjoyment as well as a luxuriously appointed cabin. The Acura NSX may lack the European competition' razor-sharp handling and designer interior, but it remains one of the most livable supercars in the real world.
Trims and Pricing
The Acura NSX is available in a single well-equipped trim level that includes all of the performance elements that drivers desire. It has driver-adjustable suspension, a limited-slip differential, a race-style exhaust system, and forged alloy wheels wrapped in high-speed summer tires, just like other top sports cars. It starts at roughly $158,000 and is surprisingly comfortable and practical to drive on a daily basis. Automatic LED headlights, rain-sensing wipers, power-folding side mirrors, heated leather seats, keyless entry, dual-zone climate control, an Acura ELS Studio premium sound system, GPS, Bluetooth, Apple CarPlay, and Android Auto are just a few of the features available.
Customers can customize the NSX in a variety of ways, and carbon fiber is a key component of the extra options. The high-strength material, which is well-known for its use in race cars, can be used in the vehicle's engine bay, cabin, roof, and other areas. Upgraded leather alternatives and carbon-ceramic brakes are also available.
Engine and Performance
The Acura NSX is a supercar with a lot of power and speed. Acura claims that its hybrid powertrain produces 573 horsepower and 476 pound-feet of torque, allowing it to accelerate from zero to sixty miles per hour in under 2.7 seconds. It has a top track speed of 191 miles per hour. These figures are comparable to those of well-known Italian and German supercars. The engine is located in the center of the vehicle, directly behind the passenger compartment, and is visible to onlookers thanks to the sleek sloping glass roof.
The NSX starts with a twin-turbocharged V6 gas engine that produces 500 horsepower and 406 pound-feet of torque, and then adds a hybrid-electric powertrain that includes start-stop engine technology and regenerative braking. This increased the sports car's power while also improving its fuel economy. According to the EPA, the NSX will get 21 mpg in the city and 22 mpg on the interstate. Those figures outperform the competition.
A nine-speed dual-clutch transmission and all-wheel drive complete the NSX's sophisticated powertrain. The driver can use the inbuilt paddle shifters to manually change gears or let the car do it for them.
Interior
The NSX is under four feet tall, but it has the stunning low-slung charm that only a sports vehicle can provide. Despite its small exterior proportions, the interior of the NSX is roomy, with enough of legroom for both the driver and passenger. The seats are well-bolstered, which helps keep passengers in position during heavy cornering, but they aren't so forceful that they detract from a pleasant driving experience. At most speeds, the cabin is also remarkably silent, with only the howl of the performance exhaust system penetrating the calm interior when the car accelerates. A 7-inch touchscreen with Apple CarPlay and Android Auto is mounted in the dashboard. A separate electronic transmission selector and a metal dial for selecting different driving modes are located beneath it. Overall, the materials in the cabin are of good quality, but the appearance is a little conservative for such a high-priced sports car.
Acura is known for incorporating cutting-edge technology into its vehicles, and the NSX includes a premium audio system, dual-zone climate control, heated seats, and navigation as standard equipment. The NSX lacks several basic amenities, including as driver-assistance technology and wireless smartphone charging, making it feel obsolete. The amount of storage space available in the cabin is similarly limited. However, the NSX has excellent outward visibility and a smooth ride on most highways, making it a rare exotic sports vehicle that is comfortable enough to drive every day.