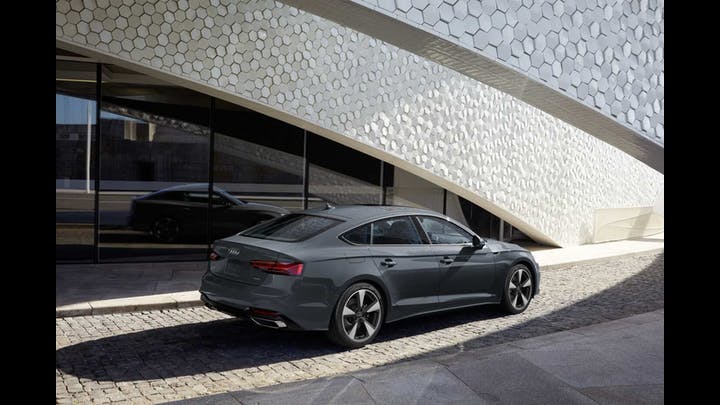 The Audi A5 is a premium compact automobile with a sporty appearance and a technological focus. It comes in coupe, four-door Sportback, and elegant convertible body styles. Buyers can pick between two turbocharged engines, and all-wheel drive ensures safe handling in any season. The interior of the A5 is one of the most luxurious in its class. Wireless Apple CarPlay, heated leather seats, tri-zone climate control, and advanced driver safety systems are all included in the Audi.
Overview
Audi's trademark driving performance and luxury interior are wrapped in exquisite aesthetics in the A5. Customers can choose from a sporty coupe, a practical hatchback, or a stunning convertible. The A5 comes standard with all-wheel drive, which improves handling in all weather situations, and a multi-link suspension that makes it more fun to drive than almost any rival. Passengers will enjoy an authentic luxury experience thanks to the cabin's rigorous attention to detail and quality materials. The ride is smooth and quiet, and advanced safety features are included. Some rivals feature more rear legroom and trunk space. Overall, the Audi A5 combines outstanding driving pleasure with useful amenities in a stylish package.
Trims and Pricing
Premium, Premium Plus, and Prestige are the three trim options available for the Audi A5. Before adding options, cost ranges from $42,000 to $61,500, depending on standard equipment and body design.
Automatic emergency braking, lane-departure warning, automatic LED high lights, rain-sensing wipers, and an auto-dimming rearview mirror are all included in the A5 Premium model. Power heated mirrors, fog lamps, leather upholstery, power heated front seats, push-button start, tri-zone temperature control, wood trim, a 10.1-inch touchscreen, Bluetooth, ten speakers, Apple CarPlay, and Android Auto are among the other prominent features.
A 12.3-inch digital gauge cluster, adaptive cruise control, parking sensors, blind-spot monitoring, satellite radio, driver's seat memory, and a surround-view camera are all included in the Premium Plus variant.
Unique LED headlights with Audi Laser Light technology are standard on the top-of-the-line Prestige. A GPS system and a 19-speaker Bang & Olufsen surround-sound system are among the other features. Its heads-up display projects crucial driving information onto the windshield using a small projector incorporated into the dashboard.
A sport suspension and rear-side airbags are available as options. Audi offers a wide range of exterior paint colors and interior leather options.
Performance and Engine
The dynamic driving nature of all Audi vehicles, as well as the available Quattro all-wheel-drive system, are both standard on the A5. Two turbocharged engines are available, each with a seven-speed dual-clutch automatic transmission. The front and rear multi-link suspensions on the Audi A5 are among the most nimble in the market, allowing for precise cornering with little body roll.
The base 2.0-liter turbo engine, which produces 201 horsepower and 236 pound-feet of torque, will satisfy the majority of customers. The car accelerates quickly, requiring roughly 6.4 seconds to reach 60 mph and a top track speed of 130 mph, which is electronically regulated. According to the EPA, the fuel efficiency is around 28 MPG.
A more powerful 2.0-liter turbocharged four-cylinder engine is offered for individuals who seek greater performance without sacrificing comfort. It has a power output of 261 horsepower and a torque output of 273 pound-feet. It just takes 5.4 seconds to get to 60 mph. On the interstate, drivers will likely notice a modest reduction in fuel efficiency, with an overall 27 MPG in mixed driving. A mild-hybrid system allows the engine to attain virtually the same efficiency as its less powerful sister. The interior electronics are powered by an auxiliary power supply, which reduces the overall dependency on the vehicle's fuel.
Premium unleaded gasoline is recommended by Audi.
Interior
Audi is one of the few automakers with a sophisticated interior design. The German brand has established itself as the industry standard for interior quality and design, employing high-end materials and excellent craftsmanship to envelop passengers in luxury and technology. With smooth leather upholstery, elegant wood inlays, and subtle color choices, the A5's interior feels advanced and premium. The beautiful dashboard arrangement is dominated by a 10.1-inch center touchscreen with wireless Apple CarPlay, which eliminates the need for passengers to fiddle with unsightly cables strewn about the interior.
With well-labeled tactile buttons and dials around the steering wheel, comfortable, supportive seats, and well-executed design, the A5 is extremely user-friendly. Controls for cruise control, music, and hands-free calling, among other things, are located on the steering wheel. Several storage cubbies are located throughout the passenger compartment, demonstrating Audi's helpful versatility. All doors have pockets, as well as a center console bin, two small-item trays, and four cupholders.
The inside of the A5 isn't the most spacious in its class, but it's really pleasant and has a sporty snugness to it. Both rows have ample headroom, and the front legroom is exceptional. Leg room in the back seat is limited, particularly in two-door body types. The Sportback has a large trunk, whereas the coupe and convertible have modest trunks.