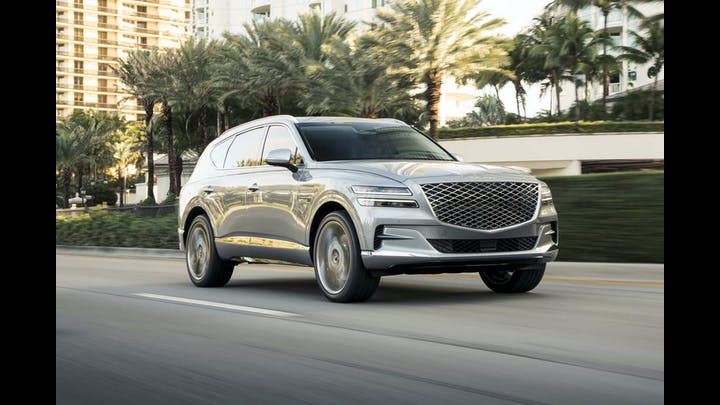 The G80 sedan is a show-stopper, with a level of refinement and feature richness that belies the Genesis brand's relative youth.
Overview
The Genesis G80 is a midsize sedan produced by Genesis, a Korean luxury automobile manufacturer that is part of the Hyundai group. The G80 has been completely overhauled for 2021, and it now has a striking and curvy new outer appearance that makes many of the established players look dowdy in comparison. Inside, the same high design can be found, however some of the controls take some getting accustomed to. The G80, like the Mercedes-Benz E-Class and BMW 5 Series, is built on a rear-wheel-drive/all-wheel-drive platform that is also shared with the Genesis GV80 SUV. Only two engine options are available: a turbocharged four-cylinder and a twin-turbo V6. The latter is more powerful, but it doesn't put the G80 into high-performance territory. The G80, on the other hand, is a luxury sedan that offers a more relaxing and comfortable driving experience than an exciting one. Furthermore, a 10-year/100,000-mile powertrain warranty adds to the piece of mind.
Trims and Pricing
The Genesis G80 comes in two engine configurations: 2.5T and 3.5T. The 2.5T has a turbocharged 2.5-liter four-cylinder engine, while the 3.5T has a 3.5-liter twin-turbo V6 engine. Both have rear-wheel drive as standard, but all-wheel drive can be upgraded for $3,150. (and also includes heated rear seats and a heated steering wheel). The Advanced and Prestige packages are trim levels that allow purchasers to customize their vehicle. The 2.5T is the most popular model, and it's also our top pick. We'll explain why in a moment.
2.5T
The base price of the 2.5T is $48,745 (plus a $1,045 destination fee). LED headlights and taillights, automatic high beams, power-folding mirrors, proximity keyless entry, and rain-sensing wipers are just a few of the highlights. Gloss black decor, synthetic leather upholstery, heated 12-way power-adjustable front seats, ambient lighting, a 12-speaker audio system, and a navigation-equipped 14.5-inch touchscreen infotainment system with Android Auto/Apple CarPlay are all available on the inside. Forward-collision warning with automatic emergency braking, blind-spot warning with automatic steering assist, rear cross-traffic alert with automatic braking, lane-keeping assist, front and rear parking sensors, safe exit assist, and adaptive cruise control with stop-and-go and lane-centering are among the driver-assist safety features that come standard.
Three-zone automatic temperature control, 19-inch alloys, a panoramic sunroof, a power trunk lid, heated front seats, wood trim, a 21-speaker Lexicon premium audio system, a power rear sunshade, and manual rear door sunshades are all included in the Advanced package.
Leather seats, wireless charging, a 16-way power driver's seat, power door closure, a 12.3-inch 3D digital instrument cluster, a surround-view monitor, a blind-spot monitor, digital key, and remote smart parking assist are all included in the Prestige package for the 2.5T.
We propose the 2.5T variant, which comes with a 300-horsepower turbo four-cylinder engine. However, we would upgrade to the Prestige package to get leather and all of the cool tech features.
3.5T
The 3.5T ($60,145) adds leather interior, wood trim, 19-inch staggered-width wheels, and bigger brakes to the twin-turbocharged V6. It has ventilated front seats, a panoramic sunroof, power door closure, a digital key, and wireless charging, among other features.
The Prestige package for the 3.5T adds 20-inch wheels, a 12.3-inch 3D digital instrument cluster, upgraded Nappa leather, a microsuede headliner, a head-up display, a surround-view monitor, a blind-spot monitor, and remote smart parking, as well as a head-up display, a surround-view monitor, a blind-spot monitor, and remote smart parking.
Performance and Engine
A turbocharged 2.5-liter four-cylinder (2.5T) and a twin-turbocharged 3.5-liter V6 (3.5T) power the Genesis G80, both mated to an eight-speed automatic transmission. Both engines are available with rear-wheel or all-wheel drive. We tested the 2.5T with rear-wheel drive, which is the base powerplant.
While the six-375 cylinder's horsepower and 391 pound-feet of torque are appealing, the base turbo four-cylinder that we tested doesn't have to make any concessions. With 300 horsepower and 311 pound-feet of torque, it trails the V6 by less than a second in the sprint from zero to 60 mph, and it feels powerful enough while merging or passing. The Mercedes-Benz E350, Audi A6, and BMW 530i all have turbo-four engines, but the 2.5T outperforms them. The 2.5T, like other turbo-fours, doesn't sound particularly tuneful as it approaches the redline. Although it has ample power lower in the rev range – peak torque is reached at just 1,650 rpm — most acceleration does not necessitate high revs.
When cruising, the G80 is elegant and quiet. Although our 2.5T lacked the adaptive suspension option, it nevertheless provided a smooth ride with good bump isolation. The steering of the G80 is rapid, making the vehicle feel responsive. The Genesis, on the other hand, has more body lean than the 5 Series, making it feel sportier.
Highway Driving Assist (HDA) II, one of the best semi-automated driving systems, is included in the G80's standard adaptive cruise control. HDA II can maintain lane position without the need for some systems' excessive steering corrections. Although it, like the BMW and Mercedes-Benz systems, has an autonomous lane-change option, it is typically hesitant to perform a signaled lane change in practice. Another automated feature (not available on our test car) is remote smart parking, which allows you to stand outside the car and order the G80 to park itself (including in a parallel parking slot) or withdraw itself from a tight parking position using the key fob.
Interior
The Genesis G80's Zen-inspired interior contains upmarket materials like as open-pore wood trim, matte-finish aluminum, and a wavelike stitching pattern on the door panels, as well as a minimalist design. From the distinctive two-spoke steering wheel to the integrated dash vents, a clean, spare look dominates. The chairs are plush, and the padded surfaces give off a luxurious vibe. Even the faux-leather upholstery in our test car with the Advance package convincingly imitates the genuine thing (which is standard in the 3.5T and arrives with the Prestige package in the 2.5T).
The large center console has the same softly curved contour as the dash. There's a dial shifter, a drive-mode selector knob, and a rotary controller for the infotainment system on its somewhat crowned surface. Elegant knurled edges on the controls demonstrate the attention to detail.
Models with the Prestige package receive a digital instrument cluster with the revolutionary blind-spot monitor as well. With a surround-view camera and a head-up display, their interior is even more tech-savvy.
Despite the car's tapering roofline, the inside of the G80 feels large. The G80's rear-seat headroom is sufficient for a 6-footer, and legroom and knee clearance behind a 6-foot driver are substantial. The 13.1-cubic-foot trunk is comparable to that of the Mercedes-Benz E-Class, but it is slightly smaller than that of the Audi A6 and BMW 5 Series. The lack of foldable rear seatbacks, on the other hand, may be a significant drawback.