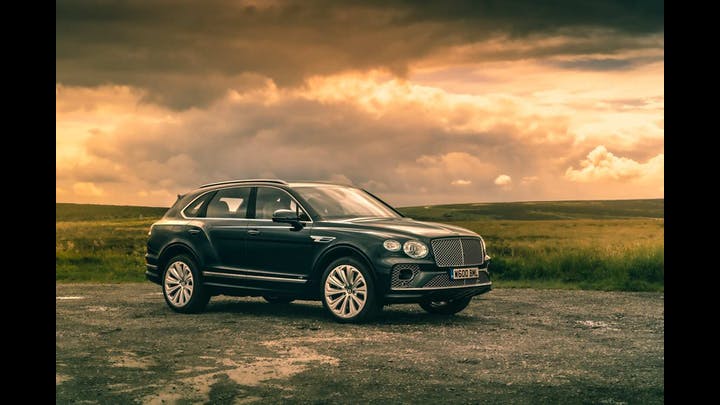 Bentley is a maker of handcrafted luxury automobiles, and the Bentayga, the company's first SUV, was released in 2017. The SUV offers a range of powerful engines and a standard air suspension for a cloud-like ride, with all of the grace, elegance, and high-tech features one would expect from a Bentley. Customers can personalize the Bentayga with a variety of unique paint colors, interior materials, and advanced driver-assistance systems.
Overview
Most luxury rivals pale in comparison to the Bentley Bentayga, which boasts meticulous craftsmanship and top-of-the-line materials. Fine leather, glossy wood, and jewelry-grade metals cover every interior surface. Bentley offers a variety of interior finishes to make each Bentayga unique, as well as unique features such as night vision, picnic tables, and a TV tuner. With tall ground clearance for better visibility of the road and impressive all-terrain abilities, there is plenty of room for passengers to stretch out and relax.
A plug-in hybrid and a W12 engine are among the advanced powertrain options available for the Bentayga. The Bentayga's biggest flaws are its high MSRP and a slew of expensive options. Nonetheless, it offers the opulence of an ultra-luxury limo in a more rugged package, making the Bentayga a real-world dream cruiser.
Trims and Costs
The Bentley Bentayga comes in four different trim levels: Hybrid, V8, First Edition, and Speed.
The Hybrid trim, which starts at around $160,000, comes with a plug-in hybrid powertrain that has an electric range of 18 miles. Air suspension, blind-spot monitoring, a panoramic sunroof, power-folding memory side mirrors, a power liftgate, automatic parking, heated leather seats, wood accents, multi-zone climate control, a 10.9-inch touchscreen with Bluetooth, navigation, and a WiFi hotspot are just a few of the luxury features available. For $177,000, the V8 model adds a twin-turbo V8 engine.
The price of the First Edition is around $220,000. It has a premium audio system, active air suspension, lane-keep assist, adaptive cruise control, night vision, a heads-up display, ventilated front seats, and a heads-up display.
The Speed trim, which starts at $245,000, is for those who want the most power and performance. It comes with a W12 engine with twin turbochargers, a motion-activated liftgate, leather/Alcantara upholstery, and a heated steering wheel.
Bentley offers a wide range of exterior paint colors and interior trim inlays. Hand-stitched stitching and seat piping, a Breitling clock, a 4-seat comfort configuration, secure biometric storage, a console drinks cooler, a TV tuner, and other options are available to customers. Everything from all-terrain driving to track days can be done with the Bentayga.
Performance and Engine
The Bentayga's powertrain comes in three flavors, starting with a powerful plug-in hybrid engine. A turbocharged 3.0-liter V6 engine is paired with an electric motor and lithium-ion battery in this gas-electric setup. It has a net 443 horsepower and gets 19 mpg in mixed driving, according to the EPA. This engine will provide more than enough power for most drivers to get around town and pass slower vehicles on the highway. Its 18-mile electric range allows it to drive without using gas on short commutes. There are also twin-turbo V8 and W12 motors with up to 626 hp for quick acceleration.
Interior
The interior of the Bentley Bentayga is reminiscent of a classic luxury sedan, with hand-stitched leather and genuine wood inlays. It does, however, have more cabin space and excellent headroom in both rows. Customers can customize the Bentayga with a variety of upholsteries, special headliners, door trim, and more, giving it a bespoke quality that only a few rivals can match.
Unlike some ultra-luxury SUVs, Bentley opts for a sportier, more driver-focused layout. It has agile handling and quick acceleration, as well as a variety of driver safety features. Customers can upgrade the rear bench to dual bucket seats, the center seat to a center console, and the rear seats to have ventilation and massage functionality.